Islamorada, FL, is known as a "Village of Islands," because it's spread out over six islands in the famous Florida Keys. Nestled between the Florida Everglades National Park and the Florida Strait, it's your perfect Florida vacation headquarters. And every vacation needs worry free transportation service. At Florida Keys Express Shuttle and Limousines we have any kind of transportation you need from shuttles to limousines and more.
Whether you are vacationing, planning a momentous occasion, or visiting friends or colleagues in Islamorada, we have the perfect Islamorada, Florida, transportation services. Our Islamorada, FL, service gives you a glamorous entrance to any event, luxurious travel, and quick and easy transportation to any location.
Are you in Islamorada with friends or family and looking to visit the locations from the Netflix series, Bloodline or swim with dolphins? Maybe you're an avid angler here with your fishing club because Islamorada is the "fishing capital of the world." Or perhaps you're a group of divers and snorkelers here for a scuba adventure and to visit the History of Diving Museum. With a town car, van or Islamorada rental, you can easily keep everyone in your group together and you will not have to worry about directions, tolls or traffic. Trust the professional drivers of our limousine transportation service to get you anywhere in Islamorada on-time.
Besides the convenience of prompt, well-coordinated, effortless travel, our Islamorada transportation services also allow you to arrive in style. Our limos include a spacious, neon-lit party zone where you and your guests can sit back, relax, have a drink and keep the party going from place to place.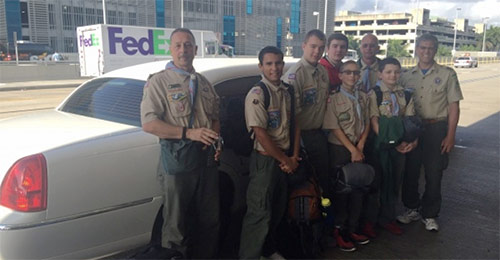 Islamorada, FL is one of the perfect spots in the Florida Keys for the perfect destination wedding or romantic getaway. From weddings to birthdays to anniversaries and much more, nothing starts an amazing evening like an exclusive Islamorada, FL, rental. For other group events, reunions, family vacations, business conventions and other occasions, we also have town cars and vans available in addition to our limousine transportation service.
Make your paradise vacation complete with luxurious Islamorada, Florida, limo. Schedule a rental to or from the airport or another location on your party itinerary. For big events, keep the crew together and learn more about our town car or Mercedes Benz van transportation services seating up to 11 guests. Contact us at 305-743-7454 today to get a quote for car, van or limousine transportation service in Islamorada, FL.